Friendly Strategies You Can Use to Ignite Your Child's Learning and Increase School Success
-by Judy Willis, MD, M. Ed
A groundbreaking guide for parents that combines the latest brain research with the best classroom practices to reveal scientifically savvy ways to improve your child's success in school.
Written by Judy Willis, MD, MEd, a board-certified neurologist who is also a full-time classroom teacher, How Your Child Learns Best shows you not only how to help your child learn schoolwork, but also how to capitalize on the way your child's brain learns best in order to enrich education wherever you are, from the grocery store to the car – a necessity in today's "teach to the test" world.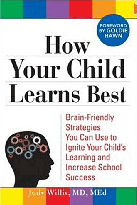 By using everyday household items and enjoyable activities, parents of children ages three to twelve can apply targeted strategies (based on age and learning strength) in key academic areas, including:
• Reading comprehension
• Math word problems
• Test preparation
• Fractions and decimals
• Oral reading
• Reports and projects
• Science and history
• Reading motivation
• Vocabulary
Discover how to help your child increase academic focus and success, lower test stress while increasing test scores, increase class participation, foster creativity, and improve attention span, memory, and higher-level thinking.
Paperback: 336 pages; Publisher: Sourcebooks, Inc. (September 1, 2008)
ISBN-10: 1402213468 ISBN-13: 978-1402213465
Parents take note: Back in September 2003, two important changes by The College Board, which provides the SAT as well as the PSAT and AP tests, took effect changing how colleges view students with learning disabilities.
First any students who take the SAT's (Scholastic Aptitude Test) with testing accommodations, such as extended time, will no longer have their scores "flagged" for colleges indicating that the "scores were obtained under special conditions".
The admirable idea is to create a level playing field for those students with learning disabilities and prevent colleges from discriminating against them. Accommodations are granted to those students with learning disabilities who demonstrate a need based on psycho-educational testing and teachers input. A learning disability is defined as a significant discrepancy between a child's ability (or IQ) and his school performance. Such students may need a little extra time on tests, not because they're not as bright as other students, but because their brains process information differently. Many children receive some accommodations throughout their academic careers. Often this makes the difference between frustrated, under performing children with low self esteem and well adjusted, happy, high performing ones.
This change is great news and long overdue for students with learning disabilities, which make up 6% of the national student population. At present only 2% of students seek test accommodations from the College Board. This low number may be partially due to concerns about the past flagging of scores and fears that schools might be hesitant to accept them. Now perhaps more students with learning disabilities will request and receive proper and appropriate SAT accommodations.
The second important change concerns how such accommodations are granted. Comprehensive psycho-educational evaluations older than 5 years will no longer be accepted. On the national level, public and private primary grade schools use varying criteria for assessing and granting accommodations to students. One such accommodation is called a 504 which is given to students who do not fit the classification of Special Education, but have learning difficulties and therefore receive some modifications in their school program. These modifications can include extended time for testing, a structured learning environment, modified homework or any other modification that will help the student to succeed.
But the College Board exams are all nationally standardized and therefore eligibility for accommodations must also be nationally standardized. Students who have been receiving accommodations at their school for less than 4 months will not be eligible to receive test accommodations on the SAT. They can however go through the SAT Appeal Process and challenge it. Even students with long term accommodations at their school are not guaranteed accommodations for the SAT. All students requesting accommodations for the SAT must submit documentation to the College Board at least 5 weeks prior to the SAT test date and for those going through the Appeal Process a minimum of 7 weeks is needed.
Documentation required for SAT testing accommodations must: 1) State the specific disability; 2) Be current (within three years; one year for psychiatric disability); 3) Provide relevant educational, developmental and medical history; 4) Describe the comprehensive testing and techniques used to arrive at the diagnosis (including evaluation dates and test results with subtest scores from measures of cognitive ability, academic achievement, and information processing); 5) describe the functional limitations supported by the test results; 6) Describe the specific accommodations requested; and 7) Establish the professional credentials of the evaluator, including information about license or certification and area of specialization.
For more info visit: www.collegeboard.com/ssd/